Soundtrack Excerpts From the Motion Picture – Each His Own Devil (2019)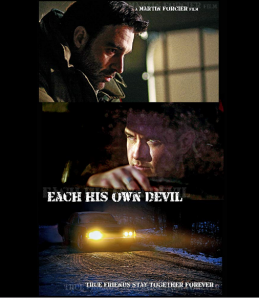 The last day on the job for a hardened hit man, and a compromising situation for a contemplative criminal lead to a point of no return.
This special entry into the Music Gallery contains portions of the soundtrack to the feature film Each His Own Devil.
The score fuses electro-cinematic themes with organic instrumentation to drive the scenes forward with intrigue and tension.
Sound Shield Studios was fortunate enough to be selected to provide both music composition and audio post-production services for Alienated Toad Films during the creation of this indie instant classic.
Enjoy this listening experience, but note that the soundtrack should truly be heard in its final form … within the context of the film itself. The songs within this excerpt are too many to list, however some of the track titles may be recognized in other locations throughout this site.
Other Music Gallery Selections …