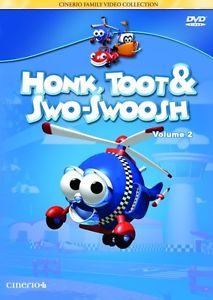 "Honk, Toot & Swo-Swoosh": Robin Dumas was an integral part of the production team which won two Telly Awards, and a CINE Golden Eagle.
As senior engineer on the project, his sound design and audio post production work was essential to the development of this revolutionary children's animated series.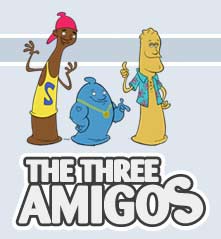 "The Three Amigos" (PSA): This Public Service Announcement series was the largest of its kind in history. With a total of 820 spots, this animated HIV awareness campaign featured a variety of 20 PSAs, produced in 41 languages, for use in 150 countries. Robin recorded and synched dialogue for a majority of the different languages. From stretching rubber effects to international ambiences, he provided sound design, and mixing for the entire series. Robin's greatest privilege on the project however, was to be chosen as the voice talent behind the English character "Dick"… a talking condom. "The Three Amigos" went on to win a Peabody Award and 29 other international awards.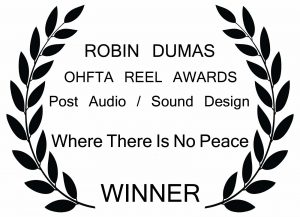 "Where There Is No Peace": The distinction of winning the OHFTA REEL Award for Audio Post Engineer was augmented when both of Robin's other submissions were nominated as well. He won by unanimous decision.
Award Winning Audio: From feature films to industrial videos, Sound Shield and Robin Dumas will apply the same care and thoughtfulness … regardless of a project's scale or style. Professional voice recording, post audio production, sound design, mixing, and music composition are all part of the shield's coverage.
Featured Track: Terry Fox Legacy (Robin Dumas) Featured as part of the Terry Fox exhibit at the Candian Museum of History, "Legacy" provided the backdrop for heartfelt testimonials that described how much of an impact Terry Fox had on the people of Canada… and the world.